Those "what will be will be" stories have passed thorough the line I drew.
It's just kinda funny that not everything goes well like I planned.
Those "what will be" stories I captured at first,
easily turn around and run into the total different direction at the end.
People always call it as "timing" "coincidence" and "destiny" sometimes.
Feel like, somebody tricked me and laid a plot instead of my future vision I saw.
The biggest problem is that,
the plot and the direction somebody adjusted,
is always "exactly right" for my life.
I'm not sure that "I" make it right or it just "becomes" right.
It warns me the problems in my dream like as the alert,
and try its best to make me give up my bad-graded plot.
The excuse I say when the thing is not going well,
is always same as the reason I speak when it succeeded.
So I bring a big pencil (as my height) and try to extend the line I drew,
to make my life as my life even just a little bit.
that's how I draw the line.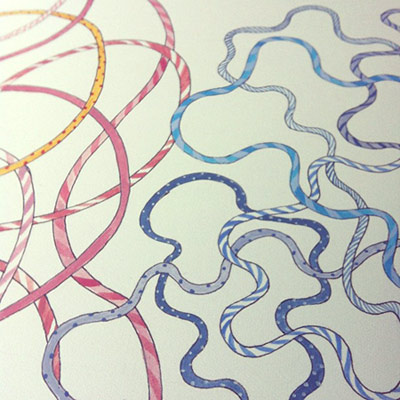 なるようにするべく敷いた伏線の横を、
思い描いた未来は、私にとって「正解」であるはずなのに、
それがほんとに「正解」でない場合、全然違う方向に走り出す。
おそらく人はそれを、タイミングとよび、偶然とよび、
なんていうか、知らないなにかの力で、
人生が、
自動で修正されてるみたいで。
困ったことに、修正された方向は、いつだって正しい。
それは「私」が正しかったことにしているのか、
正しく「なる」のかは、やっぱりよくわからないけど、
夢での警告は顕著だし、私の落第点の思惑を、全力で曲げにかかる。
上手くいかないことの言い訳は、成功したときの内訳と、いつも同じ。
だから、その敷いた伏線を、大きな鉛筆で、横にのばすの。