That was a very nice year 2012,
like I feel that today was the best day.
My friend said that I have a very high ability of enjoying the life.
yeah I guess he's right, I kinda feel the today is the best day everyday.
I really appreciate my life that I can feel something like that, every year.
I like this taste of the air in my home town which is a bit quieter than usual.
feel like I can see the sight that I used to see there,
when I was at the high school.
Tokyo is still there look sleepy, like it was always cloudy to me ten years ago.
I'm not sure that I grew-up changed or no.
I just saw my breath melted in the air.
This is rare that I'm in Japan for the new year.
I just like people say "wishing your good new year" when they say bye to me.
hope your holidays are nice as well.
btw, the random person asked me,
"Oh Yoko, you are going to have the fancy count-down party in Roppongi (celeb area) right?"
Whaat? what kind of person who they think I am?!
I'm not a person who counts 100 with happily all together,
kiss-hug with strangers to celebrate the new year. sorry!
I rather wanna stay inside, watch "don't laugh tv", and count 5.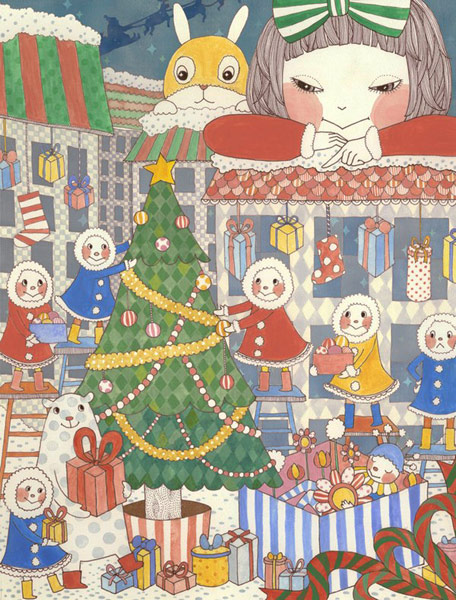 今日がとてもいい日だったみたいに、
今年もとてもいい年だった。
私は、人生をたのしむ能力に長けている、と言われました。
そうね、そうかも、わりと今日が、1番たのしい。
毎年そうやって、次の年を迎えるの、それって、すごい。
年末は、小さな町が、いつもよりも、もっと静かにひっそりで、
つめたい空気が、すぅっと体に入ってきて、
高校のときに見ていた東京の景色が、そこに見えている気になる。
はぁ、と吐いてみた息は白くて、
思い出せばいつもくもり空だった10年前の私の東京は、
今もそこで、眠そうにしてた。
ひさしぶりに、日本で年を越します。
若い人たちも、私たちも、年輩の方も、みんながね、
「よいお年を」と言っておうちに帰るのを見ると、
とても、あったかい気持ちになります。
そういえばね、大晦日は、
六本木でカウントダウンパーティとかなんですか?と、聞かれました。
え!私は、みんなで100から数えるとか、到底無理な人種ですが、
一体どんなイメージなんでしょう。
ぽかんとしてしまって、ガキつか派です、とは言えなかった...!悔やまれます。
とりあえず、5くらいは数えてみせましょう。
まあまあ、こんな私なので、
いつもどおり、ご迷惑をまきちらし、今年も大変お世話になりました。
どうぞ来年も、よろしくお願いいたします!!