For 10 Year Anniversary of Amelia's Magazine. Check out their
Kickstarter
campaign.
Amelia's Magazine celebrates ten years with new publication and artists' print series That
Which We Do Not Understand
, an existential journey in illustration and creative writing.
Always a keen champion of sustainability, Amelia has decided to print the book largely on demand, assessing numbers via a
Kickstarter
campaign which launched on Monday. Alongside the book, Amelia has also commissioned a series of A2 limited-edition art prints created by innovative young designers and illustrators, adorned with gold leaf. Reserve your copy
here
.
written by
Grafik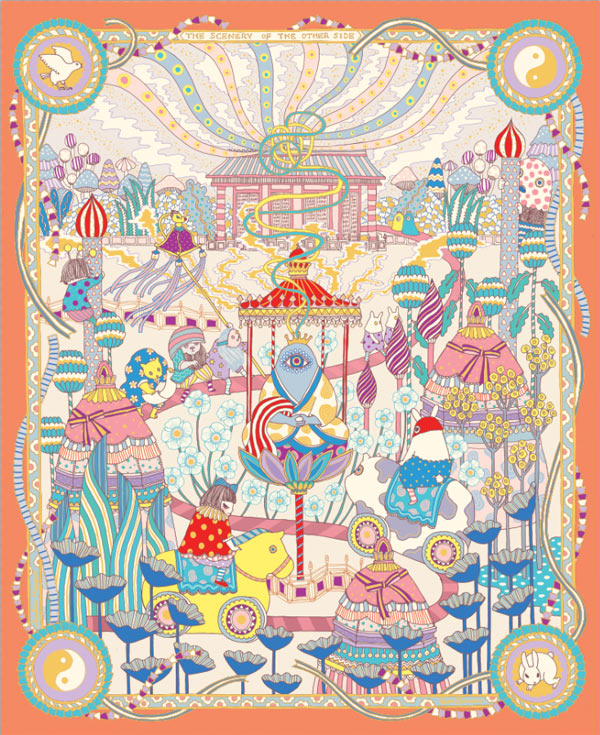 Amelia's Magazine is one of my first clients back in th days. I found the magazine at the newsstand in New York and it became my favorite magazine until now. So when Amelia told me about this project which is celebrating 10th anniversary for their book. I was very happy to participate.

The subject was interesting as well. Since I lost my grandfater last year, I started to think where we are going after the life. In Japan, funeral ceremony is very solemn. I guess that was very luckey for me not to have the funeral until last year(nobody died around me), but I was very shocked to realize how people died and let the souls go away.
In Japan, t

he funeral is usually on the day after the wake. The procedure is similar to the wake, and incense is offered while a priest chants a sutra. The ceremony differs slightly as the deceased receives a new Buddhist name

written in Kanji. The

kanji

for these

kaimyō

are usually very old, obsolete, and sometimes with esoteric meanings, and so few people can read them.

At the end of the funeral ceremony, the guests and family may place flowers in the casket around the deceased's head and shoulders before the casket is sealed and carried to the elaborately decorated

hearse

and transported to the crematorium. In some regions of Japan, the coffin is nailed shut by the mourners using a stone.


After I started to think where the souls will go after the life, I learnt so many things that I never thought before. In Japan, we believe the souls will go to the Hell first to be judged by the 10 hell kings for 10 times to show our souls are clean. And I thought that was very interetsting.
So when I heard about this Amelia's magazine project, I immediatly thought about this. I knew that I wanted to draw the scenery of the after life world.

I did not want my drawings to be too dark because I'm praying for the souls, including my grandfater's, to walk happily after the life. So how it comes up.

I hope this campaign will go well and it comes to alive.
Thank you so much for reading :)

http://​yokofurusho.com