my friend's studio(
poolsidesign.com
)will be releasing their new DVD on this thursday!
they are calling for entry of animation and motion graphics every year:)
I made my very first animation for their last one, "undo"
(they give us different theme, each year)
if you're interested in animation, please cooome!!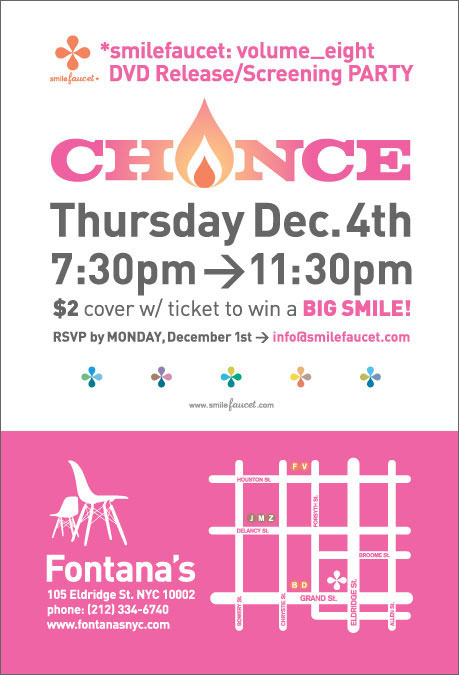 *smilefaucet DVD Release Party: CHANCE
After a few months screening submissions, late nights illustrating and animating, and a crazy day involving serious musical chairs, *smilefaucet is pleased to announce the world premiere of its ninth installment in its series - CHANCE! Featuring an open by EATDRINK, this should be a fun night to view work by some great talent, old and new!
Where: Fontana's @ 105 Eldridge St. Between Broome & Grand
When: Thursday, December 4th @ 7pm
Screenings: 8:30pm & 10:00pm
Door: $2
With special guests TBA!
We'd love for you to come out and celebrate this occasion with us!
RSVP by Monday, December 1st.
info@smilefaucet.com
smilefaucet.com